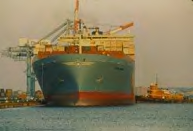 Personal attention to each and every detail of every situation is our foremost priority. We are always available to discuss any matter at any time. We are located in Rahway, NJ and this allows us easy access to Port Newark, the Elizabeth Seaport, and Newark Airport as well as every U.S. Custom House in the New York District.
Mailing and Physical Address:
1450 Church Street
Rahway, NJ 07065 U.S.A.
Phone 732-381-0060 Fax 732-396-9546
If you wish for your organization's URL/website to be added to our links list, please e-mail us with the word "Link" appearing in the subject of your e-mail message.